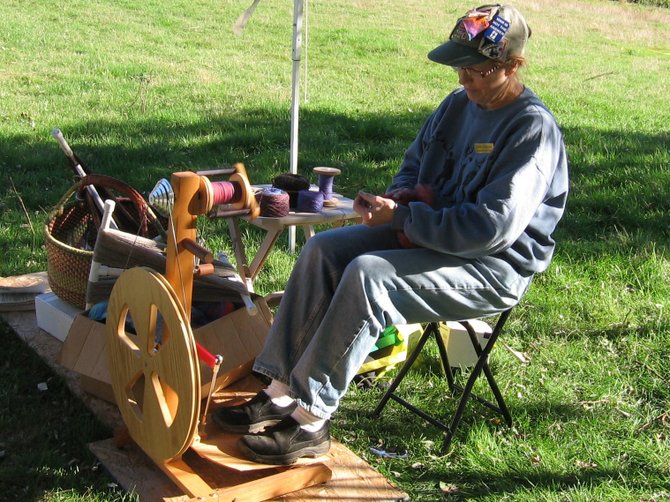 continued — "All the kids love to go look at our three little pigs and the rooster that crows all day," said Prescott. She also said Riverview Orchards will have a pie eating contest on Saturday at 2 p.m. and they'll also have their award winning cider donuts on hand.
Larry Syzdek and Ruth Olmsted own and operate Shepherd's Hey Farm at 43 Riverview Road. They've been taking part in the festival for 19 of the 20 years it's been going on. Syzdek said he got into farming after working on a farm in Amsterdam as a young adult.
"When I had the opportunity to buy the land here … I said it would be a shame just to have the property and not do anything with it," said Syzdek. He settled on raising sheep and attended Cornell University to get a better understanding of the undertaking.
"It's a thing I felt like I wanted to share with the community. Not everybody gets a chance to get out to a farm or work on a farm or to know about animals. I wanted to share that with folks, especially the younger folks," he said.
Shepherd's Hey Farm (named after a style of dance) will be conducting pasture walks among the sheep for kids so that they can "play shepherd for a little while" and see what daily chores are like on a farm.
Farming isn't the only thing you'll find at Syzdek's place. Like all farmers, he casts a keen toward the environment and has an air sampling station that measures mold, grass and pollen present in the air. He sends data for daily pollen counts along to Albany County and national organizations that track air quality.
Most farms will be open from 10 a.m. until 5p.m. and conduct tours in groups as they arrive at the farms. Additionally, the Vischer Ferry Fire Station No. 1 at Riverview and Crescent Roads will be holding a Hungry Farmer's Breakfast on Sunday from 8 a.m. until noon. Adults are $6, children are $3 and those under the age of five are free.
For more information on the festival, visit cliftonpark.org.

Vote on this Story by clicking on the Icon