Photo Gallery
Primary Day 2012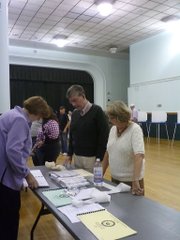 Voters headed out to the polls today to cast ballots in a particularly busy primary election. Several incumbents are retiring their seats this year and others are facing challenges, making for crowded races. In Bethlehem, Democrats saw an off-year Town Board race, a six-way Assembly primary, a State Senate primary and a slew of Reform-sponsored candidates for Democratic Committee, making for a particularly full ballot.
CAPITAL DISTRICT — Voters headed to the polls today to make their choices in primary contests across the Capital District.
Remember to check back to spotlightnews.com after the polls close (at 9 p.m.) for results as the become available and updates from our reporters in the field, who will be spending the evening at candidate events.
Vote on this Story by clicking on the Icon