CAPITAL DISTRICT — Voters won't be casting any primary ballots in the newly redrawn 111th Assembly District, but the bell has been rung and general election candidates are already jousting.
GOP leaders in Albany, Schenectady and Montgomery counties issued a joint statement on Tuesday, Sept. 4, calling on Democratic assembly candidate Angelo Santabarbara to renounce any support of Assembly Speaker Sheldon Silver and hand back previous campaign contributions received from the state Democratic Assembly Campaign Committee, of which Silver is honorary chairman.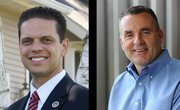 The following day saw the issuance of a statement from Schenectady County Democratic Committee Chairman Brian Quail, who said he "denounced" Republican assembly candidate Tom Quackenbush for trying to shift the focus away from his "abysmal tax record."
In his previous campaign against Assemblyman George Amedore, Santabarbara accepted more than $127,000 from the Democratic Assembly Campaign Committee. Quackenbush argued Silver "controls the money" for that group.
"Whenever you take money from an interest … you would then be expected to vote in line with the person," he said.
Silver is under investigation for his alleged role in organizing taxpayer-funded settlements for women who worked in Assemblyman Vito Lopez's office. Lopez was found by a government ethics panel to have sexually harassed several women.
Quackenbush said asking Santabarbara if he would vote Silver back to his leadership position was a fair question. He said he wouldn't vote for Silver.
In response, Santabarbara said receiving donations for the Democratic Assembly Campaign Committee doesn't equate him to voting for Downstate interest and issues. The committee handed out funds to several candidates for Assembly, he noted.
"I am a Democratic candidate, so I am going to have support from the party," he said.
Santabarbara said he is not committed on how he would vote for Silver's reappointment. He said the ongoing investigation should reveal more information around the incident and would shape his decision.
(Continued on Next Page)
Prev Next
Vote on this Story by clicking on the Icon