BETHLEHEM — There is no clear winner in the Democratic primary for Bethlehem Town Board.
With former Town Supervisor Jack Cunningham bringing in 1,580 votes in Thursday's election, Reform Democrat candidate Bill Reinhardt held a slight lead with 1,673 votes. According to the Albany County Board of Elections, 250 absentee ballots will still need to be counted before a winner is declared.
Cunningham said his campaign made it a point to encourage residents to obtain absentee ballots if needed. In total, 352 absentee ballots were requested within the town.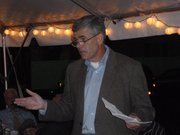 "Some people might say the word of the night is reform. I certainly don't know about that, but there has been a bit of change," said Cunningham, referencing the significant numbers of Democratic Committee seats within the town that were won by Reform-backed candidates.
Cunningham said he was proud to have run a positive campaign and added it helped people to recognize the type of person and politician he is.
"I ran a tireless campaign," he said. "I think some people have embraced a message of reform and I think really at this point we are going to have to see what reform looks like in the coming weeks."
Reinhardt said on Thursday he was optimistic he would come out on top.
"I think people want to see new ideas and some new perspectives," he said. "I think people liked my thinking about the future and the need to plan beyond the current budget," including sustainability and "going green."
Cunningham said he would not have run his campaign any differently, while Reinhardt said he wished he had gotten out more to speak with residents.
He added the strong voter turnout means people want to see change within the Bethlehem Democratic Party. Several notable committee members may have lost their positions depending on the absentee count, including town and county Democratic Committee Chairman Matthew Clyne (who was one vote shy of retaining his committee seat), Town Board Councilman Kyle Kotary and Town Clerk Nanci Moquin. Cunningham held on to his committee seat. All said, Reform-backed candidates claimed 28 seats on the 62-member town committee, according to unofficial results.
(Continued on Next Page)
Prev Next
Vote on this Story by clicking on the Icon