ALBANY COUNTY — "It's tough to dislodge an incumbent that's respected," said former Albany County Assistant District Attorney Peter Cristo.
Cristo was gathered with supporters of incumbent Albany County District Attorney David Soares, who will take a third term in office having beat a Democratic primary challenge by Lee Kindlon by a margin of 14,498 votes to 10,132 votes.
Family, friends and colleagues of Soares gathered at Taste Restaurant on Beaver Street in Albany to celebrate the campaign. Soares finally arrived to the party around 11 p.m., after the victory was clear.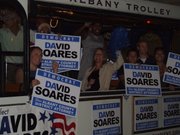 "(We) allow the thousands of Albany County voters to speak for us, and today they have," Soares said.
Soares said this particular race was a "vicious campaign."
"I will tell you that the results reflect what I've always believed and that is the people of Albany County who are so much smarter than that … do not play to the negativity," Soares said. "I thought it was a poor strategy. It is what it is, it's behind us now."
With eight years under his belt, Soares said he doesn't know if he's going to be doing anything differently in the coming years because what he has been doing has been working.
"In 2004 we promised a tough and smart approach to dealing with crime in public safety here in Albany County. We've had eight years to do just that," Soares said. "It's not just about fighting crime. It's really about building hope."
Defeat set the tone for a more somber evening for Lee Kindlon, whose supporters gathered at Lynn's Uptown Sports Bar in Albany.
"The election night didn't turn out as we hoped but I think we put up a good, strong fight. We had a lot of support," said Eddie Ayala, Kindlon's campaign manager. "It was a spirited campaign. We ran on the issues that we think are really important to voters."
(Continued on Next Page)
Prev Next
Vote on this Story by clicking on the Icon