CAPITAL DISTRICT — Phillip Steck emerged the winner in a four-way Democratic primary in the 110th Assembly District after a spirited rally, according to unofficial election results.
Steck, an Albany County Legislator since 2004, garnered the most votes in Albany County with 1,395 votes. Kevin Frazier came in second with 1,201 votes there. Steck also had a solid turnout in Schenectady County with 705 votes, or 34.6 percent of the total there, despite Niskayuna Town Supervisor Joe Landry having the home field advantage amongst the other candidates hailing from Colonie.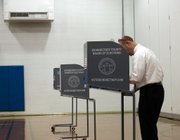 Steck said his campaign's efforts and knocking on "every door" of Democrats who have voted in primaries in Schenectady County was the key to his victory.
"This is not so much about Phil Steck, but about the power of grassroots politics," he said. "The campaign was run almost perfectly … I think we did about as well as we could have done."
Steck said distinguishing his background as an outsider to state government over that of his three opponents was an important aspect of his campaign.
"I think the voters are looking for better state government and I think the voters thought I would be the person more interested to work hard in delivering that," he said.
Frazier attracted prominent endorsements, including from outgoing Assemblyman Bob Reilly, the lawmaker Democrats were vying to succeed, but he failed to gather support in Schenectady County. Frazier took 19 percent of the vote there.
Timothy Nichols came in last in the field with 624 votes. Landry garnered 1,137 votes in total and said he had hoped to have more support in Colonie, where he drew only 311 votes, or 8.8 percent of the total.
Either an overwhelming victory in Schenectady County or making a strong showing in Colonie was vital for Landry. There are 18,730 registered Democrats in Colonie, three times the number of registered Democrats in Niskayuna (5,984). The portion of Schenectady included in the district also boosted the county's numbers.
(Continued on Next Page)
Prev Next
Vote on this Story by clicking on the Icon