continued — "I worked really hard at meeting folks in the party by knocking on their doors all summer long," Whalen said. "I think everybody pretty much realized I am dedicated to the taxpayer."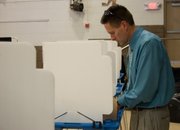 Whalen garnered 258 votes, according to unofficial election results. Out of the three Democrats vying for the line, Frazier captured the most votes with 87, with Steck close behind with 79 votes. Landry garnered 34 votes.
Steck said the three Democratic candidates essentially handed the line over to Whalen by dividing the support of Independence voters.
"We all split the vote up and enabled the Republicans to get that line," Steck said. "We had three Democrats and one Republican in the Independence primary and it made it almost impossible for a single Democrat to win that line."
The three Democrats received a total of 200 votes, still short of Whalen's take.
"I was so pleased I got over 50 percent of the vote," Whalen said. "(People) are sick of politics as usual."
Steck was confident he could win the November general elections with only two ballot lines. Whalen is also appearing on the Republican and Conservative lines.
"I think we have enough lines to win the race," Steck said. "I have spent all my life running uphill races, but I think we are in strong position to win. I don't take anything for granted, though."
Whalen, however, characterized Steck's second-place performance in Schenectady County as "overwhelming telling."
Vote on this Story by clicking on the Icon