Colonie seniors had a chance to honor the community's first responders firsthand at the annual "Remembering Those Who Keep Us Safe" event on Wednesday, Sept. 5.
As the 11th anniversary of 9/11 approached, the event commemorated local and national police, fire and EMS departments, as well as members of the military. Held at the Belltrone Living Center and hosted by the Colonie Senior Service Centers, the short ceremony consisted of speeches by local officials as well as songs led by Kathy Lawler of the St. Pius X Church Choir in front of a large audience of senior residents and of the community.
Executive Director of CSSC Edward Neary said the event began on the first anniversary of 9/11.
"It was an opportunity for us to remember that horrific event as a senior community. Then we expanded it into an opportunity to thank the local first responders, those people who keep us safe in our community," Neary said. "It keeps us connected as a community, which is the most important thing."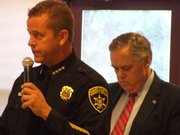 The event brought together many representatives of the public safety community, including Albany County Sheriff Craig Apple and Colonie Chief of Police Steven Heider. Members of fire departments, EMS and a few police officers had to leave on call right before the ceremony began.
"On behalf of all the law enforcements and emergency medical services, we wanted to thank you for having us here today, for honoring us when in fact it is our honor to serve you," Heider said. "We look at the support we get from the community – that's what helps us get our mission across, get to the goals we want to accomplish."
Heider went on to thank government officials, including Town Supervisor Paula Mahan and Village of Colonie Mayor Frank Leak, who were also in attendance.
(Continued on Next Page)
Prev Next
Vote on this Story by clicking on the Icon