For Peter Meixner of Delmar, the perfect day for sailing is sunny, 75 degrees with low humidity.
"Wind out of the southeast, about 10 to 12 miles per hour. What could be better than that?" Meixner asked.
But instead of driving up to Lake George to hit the water, Meixner, 70, is the commodore of the Capital Area Model Boat Association (CAMBA), where he races radio-controlled, miniature sailboats with about 20 other men in the pond at The Crossings of Colonie.
The group, which holds races on Tuesdays and practices on Thursdays, is sanctioned club No. 32 of the American Model Yacht Association (AMYA) and sails the Soling 1 Meter design. This design resembles a model of an Olympic sailboat, and CAMBA follows the basic rules from the AMYA. Some rules include having the boat be a minimum of 10 pounds and "no more, no less" than a 600-square inch sail area, Meixner said. Penalties, like doing a complete 360-degree circle, are given out when boats collide and don't follow the rules of right-of-way.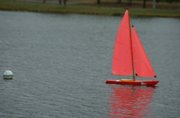 "These are in fact sailboats, just like a 25-foot sailboat is a sailboat. They're only moved by the wind. We control them — the essential sailing qualities — just the way a full-sized sailboat would be," Meixner said. "With our radio transmitter we can control a mechanism inside the boat that takes the sails in or out. The other function is the steering. We control direction and sail angle. I think it probably sounds obvious, but since they're so small we have to stand on the shore."
By using the same boat design, each club member has the same chance of winning a race. The boats, which are usually ordered online, can be bought as a kit (about $300) or completed (about $600).
"A boat that a factory makes is just as competitive on the water as mine," said Meixner, who built his boat. "No one boat is inherently faster than another one, except that the skipper of it may be better at adjusting his boat than somebody else."
(Continued on Next Page)
Prev Next
Vote on this Story by clicking on the Icon