GLENVILLE — Attendance at last year's Oktoberfest in Glenville was washed out as Mother Nature rained on the festivities.
"Last year, it was really poor weather and the crowd was really affected," said James MacFarland, director of operations for Glenville. "This year, we are hopeful for better weather. We have had a great summer so we a optimistic in that regard."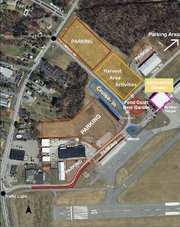 Organizers may be hoping for clear skies, but they're better prepared for weather to take a turn for the worst. David Hennel, chairman of the volunteer event committee, said at this year's event there will be even more tents located outside. Last year helped organizers learn ways to better deal with inclement weather.
"We do have some big tents that will there this year if there is a chance there is not ideal weather," Hennel said. "We are able to move a lot of the stuff indoors or under cover if there is that chance."
Although if you ask Hennel, there is no chance bad weather might be looming. His mind is focused on the sun shinning bright, or at least having dry ground.
Oktoberfest will be held on Saturday, Sept. 29, from noon to 9 p.m., at the same location at the Richmor Aviation Hangar and surrounding area. The hangar is located at the Schenectady County Airport off Route 50 by the Thomas Corners Fire Department.
Hennel said the first year of the event drew around 5,000 people and he is hoping to top that number. The event committee of 12 has met for nine months to plan the event and almost 100 volunteers will help run it.
"It truly is a little something for everybody," Hennel said. "I think we have a really good mix of fun stuff for people to do and the opportunity to sit and relax."
(Continued on Next Page)
Prev Next
Vote on this Story by clicking on the Icon