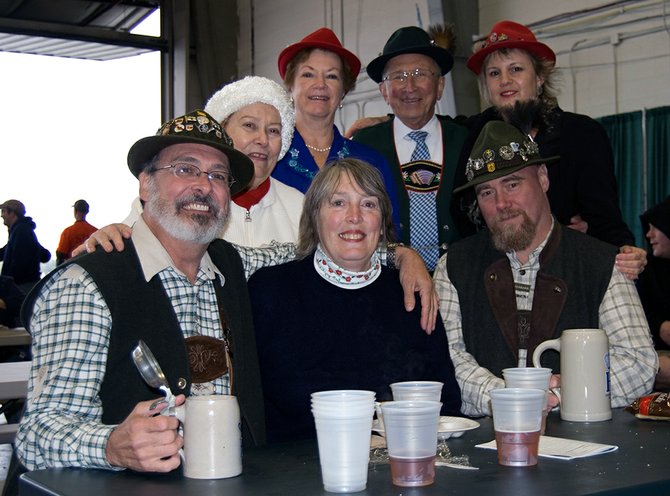 continued — There is a long list of activities at this year's event, including laser tag, a rock climbing wall, inflatable obstacle course, smoke house safety exhibit and pumpkin and face painting, along with other activities.
"There is a lot more activities for the kids and that was something that people suggested, Hennel said.
The Harvest Area will feature various local vendors and nearby will be the Cruise-In car show featuring classic cars and other eye-catching rides. The first event had more than 100 cars showcased.
The Cruise-In is offered to all vehicles and motorcycles at no cost, but participants are required to arrive between 10:30 and 11 a.m. the day of the event. Anyone interested can register their vehicle by contacting Richard DiCresce, of Enterprise Auto Sales, at 382-0054.
The event, of course, also features of bevy of traditional German food and brew for people to enjoy. Inside the hangar, German bands will perform to entertain people as they eat or relax.
Any money raised at the event, which features free admission, is put back into holding it and to host more features and attractions. The Town of Glenville, Glenville Business Professional Association and Richmor Aviation present Oktoberfest, but there are several sponsors helping fund it.
The event was the brainchild of the town's Small Business and Economic Development Committee, MacFarland said, which aims to showcase local businesses while providing an entertaining experience.
"It is a free, fun community event that raises the profile of Glenville," MacFarland said.
Hennel has chaired the event committee for all three years and said he continues working on the festival because he enjoys seeing people coming to it and having a good time.
"It is neighbors actually getting a chance to talk to each other," he said. "Most people are there long enough for two meals."
Vote on this Story by clicking on the Icon