CAPITAL DISTRICT — Voters within the newly redrawn 44th Senate District made their voices heard on primary night.
Incumbent Senator Neil Breslin beat County Legislator Shawn Morse 15,645 to 6,392 votes. This will be Breslin's ninth term in office. He now represents the 44th senate district, which encompasses Bethlehem, Colonie and the Cities of Albany, Troy and Rensselaer.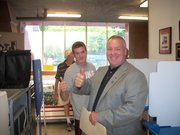 "I'm obviously very happy with the resounding nature of this win," said Breslin.
Morse said he was disappointed in the results.
"I knew from the beginning that going up against a long-term incumbent with deep machine support would be a challenge, but it was always a challenge worth taking on," said Morse in a release.
The candidate said he was proud of his campaign for not using personal attacks.
"We campaigned on the issues that really matter most to Capital Region families – ending unfunded mandates, lowering property taxes, rescuing our upstate cities and finally cleaning up the state legislature," he said.
Earlier in the day, Breslin said the complete opposite about the Morse campaign, condemning his opponent's approach.
"I wish there had been more of a focus on the issues, because calling me all kinds of names doesn't help anyone," he said.
In a statement, Breslin said he was honored by the support of the voters and will now "focus on improving the educational system for all New York's children, helping working families, protecting women's hard-won rights and making health care more affordable."
"With the primary race over, I commend Mr. Morse for his spirited campaign. I look forward to continuing my efforts to ensure that the residents of the Capital Region, and all New Yorkers, have their rights and dignity protected by their state government," he said.
Breslin said he is happy the primary is over because he feels they are harder to run than general election races.
(Continued on Next Page)
Prev Next
Vote on this Story by clicking on the Icon