BETHLEHEM — After the Sampson family of Delmar lost their 15-year-old cat Copper, their neighbor told them about Kitten Angels, a local kitten rescue organization that helps find loving owners for those they save.
Nora Sampson, 8, knew immediately that she wanted her family to serve as a foster home for rescued kittens. Her mother was on board, but Dad needed some coaxing.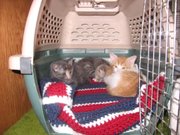 "He wasn't sure at first, but I begged. Then he said 'OK,'" said Nora.
Wendy Sampson, Nora's mother, said they began by fostering four kittens. After they were all adopted, they took on seven more. Three of those have been adopted out, and one kitten they adopted themselves.
The kittens have their own room to live in when the family is at work and school for the day. The rest of the time they have free reign of the house.
"They are very funny to watch," said Wendy, adding that having the kittens has helped teach Nora responsibility, as it is her job to feed them, take care of their litter and play with them.
Judie Janco began Kitten Angels in Delmar nearly 11 years ago. The organization works through animal control and the watchful eye of residents. Any wild cats that are found within Bethlehem with kittens are rescued by the group, which pays for medical bills of the kittens and mother.
Typically, the mother is released back into the wild, but the group will try to find a home for it first if they can. Janco said the focus is kept on the kittens, because they are often more adoptable.
"I started Kitten Angels because there was no organization in the region that just catered to kittens," she said. "I belong to SCRUFF, a trap, neuter and release organization, and they leave the kittens. But then you have to trap them all over again in the future and that doesn't make sense."
(Continued on Next Page)
Prev Next
Vote on this Story by clicking on the Icon