continued — Janco estimates her organization rescues 600 to 800 kittens each year within Bethlehem. She works with dozens of foster families and has placed thousands of kittens into loving homes.
The organization basically runs on donations of time, money and supplies. High school students often do their community service with Kitten Angels and youth offenders from both the town and county are sent Janco's way. The foster homes are also essential for the program to work, especially since the group lost its adoption space when the Delmar Pet Supply Store closed in August.
"We ask for a donation when we come to pick up cats from the person who called us. We also ask if you can foster them, until they are adopted," said Janco. "Usually if you can't foster them, we can't take them."
Janco said the group is in desperate need of more foster homes for kittens and a new space to hold adoption clinics. For now, they are holding them on Saturdays at the Delmar Farmers Market.
"Fostering is a great way to give back, especially if you're unsure if you're ready to own a cat," said Sampson. "Cats can have very different personalities, so it's a way to know what type of pet you want."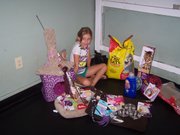 Recently, both Nora Sampson and another local girl, Cameron Conway, asked their friends to forego presents at their birthday parties. Instead, they asked for donations of cat supplies to be donated to Kitten Angels.
"She got really into it," said Cameron's mother, Laurie. "She's not really into material things, like a lot of toys."
Cameron said she felt good taking all of the supplies she got as presents to Judie and getting to spend some time playing with the kittens. She is amazed by the work that is being done at the organization, and at times has spent hours watching the cats play. Someday she would like to start volunteering, and she may use the opportunity to turn her love for animals into a future career.
Vote on this Story by clicking on the Icon