continued — "I really love cats and I thought (the party) was a great idea because one of my friends did something similar for dogs," she said.
Sampson said she casually made the same suggestion to Nora, because there wasn't anything her daughter really needed for her birthday. She felt it was a good opportunity to teach a lesson about giving back to one's community.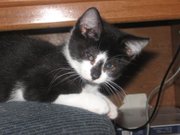 "I know I have too much stuff, and it's better to donate it to someone or something that needs it more," said Nora.
Janco said she admires the girls for their support of her organization, especially giving up their birthday presents. "They are very special little girls," she said.
To learn more about Kitten Angels or to donate, visit kittenangels.org or call 573-9906.
Vote on this Story by clicking on the Icon