Clifton Park — Shenendehowa and Bethlehem are no closer to determining which is the better Suburban Council boys soccer team than they were before Saturday's showdown.
Ricky Grable's goal with 3:30 left in the second half was the equalizer for Shen in a 1-1 overtime draw which left the Plainsmen and the Bethlehem Eagles even with 5-0-2 league records.
"It was a just result," said Shen coach Jonathan Bain.
Photo Gallery
Bethlehem vs. Shen boys soccer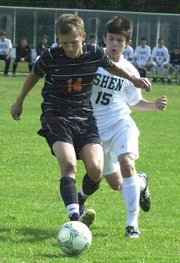 Pictures from the Sept. 22 Suburban Council boys soccer showdown between North Division leader Shenendehowa and South Division leader Bethlehem. The game ended in a 1-1 tie. Photos by Rob Jonas
A stiff southerly breeze created an advantage for whichever team had the wind at its back. Bethlehem utilized it to apply pressure on Shen's defense in the first half and the first 10-minute overtime period, while the Plainsmen did likewise to the Eagles' backline in the second half and second OT.
But just as the wind propelled the teams down the field, it also created problems in terms of controlling the ball. Numerous lead passes sailed beyond their intended targets, and several shots on goal sailed over the crossbar.
"The wind was a huge factor," said Bethlehem coach Phil Ridgway. "When the ball is picked up by the wind gusts, it can easily be misjudged."
Bethlehem had several scoring opportunities in the first half, but the Eagles only capitalized on one of them. Ben Russell's crossing pass landed in front of Zach Stryker, who rifled it past Plainsmen goaltender Justin Rohrwasser for a 1-0 lead.
Bethlehem goalie Alex Kessler made several leaping catches on Shen scoring attempts in the second half, but he couldn't dive fast enough to knock Grable's header away in the closing minutes of regulation.
"Ricky's very fast," Bain said of Grable. "That's his best asset, and he just has a way (of getting into scoring position)."
"It was unfortunate we gave up a goal in the air late, but I was very pleased with how we played," said Ridgway.
(Continued on Next Page)
Prev Next
Vote on this Story by clicking on the Icon