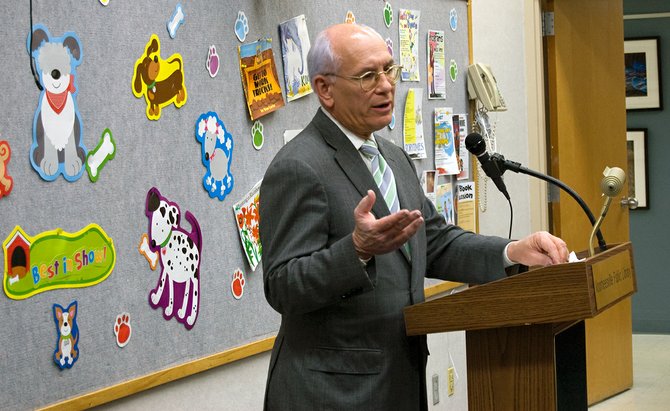 continued — Tonko said he is opposed to the continuing cuts in programs that benefit the masses while tax cuts that benefit the "most wealthy" are left in place. He said the federal government has reduced funds to programs helping the middle class.
Tonko said his mantra is "cut where we can, so that we invest where we must." He added some money must be invested to "stop the bleeding."
Another village resident, Steve Hensel, said he has two sons that "aged out" of his health insurance. One son lives in New York City and has insurance through his employer but struggles to make payments. His other son lives in Los Angeles and doesn't have insurance through his employer.
"What will the act provide for in the way of availability and affordability of insurance for them?" asked Hensel.
Tonko said demands are placed on business owners with more than 50 employees, and if more than 9.5 percent of an employee's take-home pay goes towards coverage, the employer would be penalized.
For someone who doesn't receive insurance through an employer, Tonko said they would be able to obtain coverage through an insurance exchange. There would also be various subsidies paid out to people meeting certain income level requirements.
Another person questioned if the number of people obtaining insurance will increase as projected, with the Congressional Budget Office estimating around 30 million people gaining coverage.
Tonko said while the opt-out fee for an individual might be considered low at first, the fee would gradually increase every year and is based on people essentially doing what is right for the greater good. He added one of the main causes behind an individual filing for bankruptcy is unexpected health costs.
John Ives, of Guilderland, asked where the doctors would come from to address the large increase in insured patients.
Tonko said there are incentives in the bill, mostly for primary care doctors, to help build the "human infrastructure" needed.
Tonko referred attendees to the federal website detailing the law and changes (www.healthcare.gov) and said there is also state website providing information on the Health Insurance Exchange at healthbenefitexchange.ny.gov.
Vote on this Story by clicking on the Icon