Editor, The Spotlight: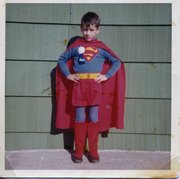 Enclosed please find the photo of a budding young superhero which I found at the ATM booth at Bank of America in Loudonville. The bank was closed at the time and I put it in my glove compartment. (We know how that works … I just rediscovered it.) The picture looks to be from the '60s judging by the square format and color print. Possibly taken with an old Kodak.
I think the picture is priceless, and whoever lost should be reunited with it, as it must bring back a fond memory. The name "Steve" is on the back and that's the only hint we have as to whom the little guy might be.
Perhaps you'd run the picture in your next issue and see if the owner comes forward. It would be fun to know if young Super-Steve's dreams were realized.
Thanking you in advance for your every consideration.
Daniel E. Dibble, Loudonville
Vote on this Story by clicking on the Icon