continued — The project initially started on a much smaller scale, D'Angelo said, and primarily showed detailed digital models of buildings from the site. D'Angelo was able to secure $50,000 in grants from the New York Council on the Arts and the Assemblyman Reilly Fund. Yet as the process got underway, adding in the extensive Shaker history, its music and people became fundamental goals.
"It was very important to me to also put it into a larger context, and focus on people who actually lived here," said D'Angelo, who has been studying Shaker history for 15 years. "It was really important to me to add the human element."
D'Angelo was first contacted about the project by Jose Kozan, CEO and founder of Virtual Grounds Interactive, who had worked on another, much smaller Shaker site digital reconstruction project and wanted to work on a website for the Watervliet location. There are at least 10 other Shaker museums across the country, including in Maine and New Hampshire, D'Angelo said, and having a website like the Virtual Watervliet project could help stimulate research of other Shaker villages.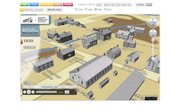 "Virtual Watervliet is intended to be a model to show how you can use digital technology to interpret historic sites. We very much intend to help others to do similar projects to draw attention to historic sites and cultivate more support," D'Angelo said.
After an extensive amount of research, including reviewing surveys, historic maps and Shaker journals, the website began developing.
One of the project's challenges was ensuring the accuracy of the building placement. When Albany County bought the Shaker land in 1925, it demolished at least 20 buildings, and now only nine remain. For the website, researchers looked at historical photographs to define designations based on historical documents for each building.
One of the website's main features is an easily adaptable mobile device component. In the "Augmented Reality," visitors can walk around the Shaker site, aim a smartphone at a location and see computer-generated images of that particular spot. Similarly, visitors can scan a QR code and hear specific music from the mobile app, including a funeral song for Ann Lee while walking through the cemetery. The Shaker songs were recorded by Albany Pro Musica.
Vote on this Story by clicking on the Icon