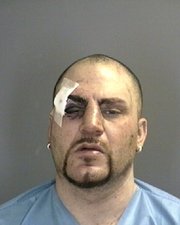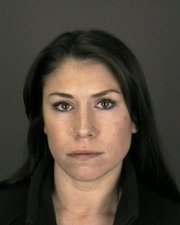 COLONIE — Two Guilderland residents have been arrested for allegedly stabbing a man at least seven times, Colonie police said.
On Saturday, March 30, Colonie police responded to a call reporting a stabbing at 17 Birch Tree Road. The officers found a woman, 28-year-old Janell F. Schwanke, covered in blood and attempting to leave the residence, police said. A man, 33-year-old Elias K. Deligiannis, also came out of the home, covered in blood with facial injuries and a laceration to his hand, police said. Police said they found the homeowner/victim, Raymond Klein, 48, inside with at least seven stab wounds to his head, back and arms. Klein was transported to Albany Medical Center and was found to also have a collapsed lung. Deligiannis was also taken to Albany Medical for treatment for his injuries and then formally charged later that morning.
The knife believed to be used in the stabbing was found in Schwanke's purse, police said, and she was arrested for attempting to conceal and flee with the knife.
All three people had been out earlier in the evening and then returned to a home where a physical altercation occurred between Deligiannis and Klein. Deligiannis then produced a knife and stabbed Klein, police said. The exact reason for the altercation is still undetermined.
Deligiannis was charged with assault in the first degree and criminal possession of a weapon in the third degree. Schwanke was charged with tampering with physical evidence. Deligiannis and Schwanke are boyfriend and girlfriend and live together at 1980 Western Ave., in Guilderland.
Both Deligiannis and Schwanke were arraigned on Saturday, March 30, in Colonie Justice Court and remanded to Albany Correctional Facility. Their cases have been referred to Albany County District Attorney David Soares for further action.
Vote on this Story by clicking on the Icon