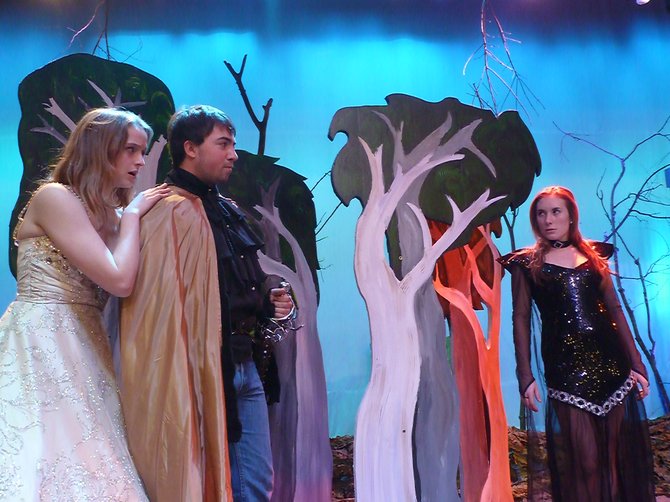 BETHLEHEM — The characters may be familiar, but this isn't your typical fairy tale.
This year's Bethlehem High School musical is "Into the Woods," a longtime favorite of director James Yeara, and one he is producing for the third time. The story is a re-imagining of several tales from the Grimm Brothers that begins innocently enough but soon interweaves the lives of several classic characters.
"The tales themselves are really old, but they are becoming popular again because they hit at the core values of our lives," said Yeara.
Created by Stephen Sondheim and James Lapine, the show originally opened on Broadway in 1987. It has recently had a reemergence with its 2010 London revival and a new film in the works to begin shooting in October and said to star Meryl Streep.
Yeara said fairy tales continue to entertain, and the proof is in recent popular Hollywood revitalizations like "Jack the Giant Killer," "Hansel & Gretel: Witch Hunters" and television shows like ABC's "Once Upon a Time" and NBC's "Grimm."
"The stories have always been there, and they are now in our DNA," said Yeara. "They've been used as inspiration by Russian composers and French philosophers, and we always reinterpret them to fit our own rules."
To prepare, the cast and crew read a different Grimm tale before each practice and discussed it. Many of the storieshad nothing to do with the play, but Yeara said it helped the actors better understand the world they were about to become a part of.
The story begins with the standard fairy tale situation of a couple turning to their local witch for a potion in order to conceive a child. Eventually, Cinderella, Little Red Riding Hood, Rapunzel and Jack all work together to help the couple find the ingredients needed for the potion.
(Continued on Next Page)
Prev Next
Vote on this Story by clicking on the Icon