continued — But Neira counters the state's "testing obsession is about taking the joy out of learning." And local educators, including Voorheesville Central School District Superintendent Teresa Thayer Snyder, worry the tests could be leading to an unhealthy atmosphere.
Testing check-up
Snyder sent a message to parents through the district's website on March 14 explaining her concern students could be "somewhat overwhelmed" by the new standards, the complexity of questions and the length of the actual exams.
"The prototype questions require multiple steps and have reading passages that are challenging for most independent readers," Snyder said. "I want our students to be confident and to recognize that these tests are nothing more than a snapshot in time and are not indicators of their capacity. I am very worried about the stress these children may experience during the testing timeframe."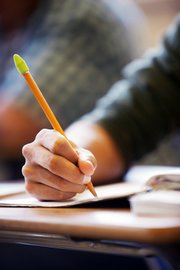 Other area districts have been sending a similar message to parents and have asked them to try to help their children overcome fears and reduce testing stress.
Lynnwood Elementary School Principal Alicia Rizzo wrote in the school's April newsletter that teachers have "worked hard all year" to prepare students and asked parents to help calm students. The school is part of Guilderland Central School District.
"We expect some of the tests may offer new challenges to our students and ask your assistance in helping students to remain calm and to not feel overly anxious about the tests," Rizzo said in the newsletter. "We are working to strike a balance in our students to take the test seriously — while not creating test anxiety."
Snyder recalled her experience as a principal. During periods of testing, visits to the nurse's office rose markedly.
"The results indicated a huge spike in visits to the nurse — a set of hard data which is as telling to me as the outcomes on the tests. Belly aches, headaches, other indicators of distress were all higher during testing among fourth graders," Snyder said in a statement.
Vote on this Story by clicking on the Icon