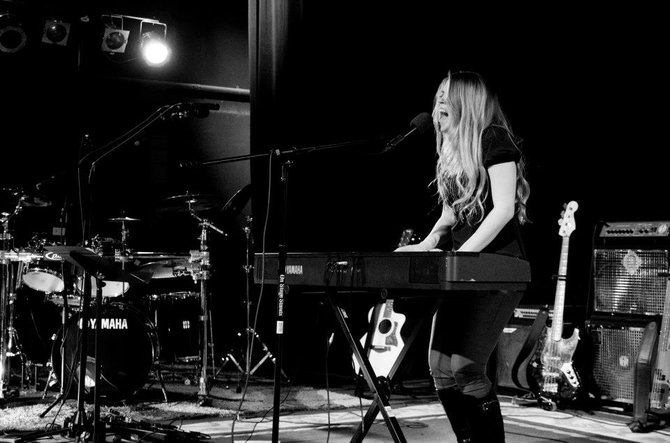 continued — Guerrette accompanies many of her songs with piano, which she began playing in the sixth grade, but has recently picked up the acoustic guitar. She plays both instruments live.
Writing songs has gotten much easier over the years, Guerrette said. She typically tries to write a song every other week and has disciplined herself to keep perfecting ones she's finished.
"A lot of times I start writing a song and I'll just stop. I just won't feel it's good. Other times I'll just continue with it. I have to feel it in order to keep going with it," she said.
Guerrette has received a wide variety of attention since she began performing. She was chosen as a Top 10 New York Finalist in the teen vocal competition "Sound Off" in 2012, was awarded the 2011 Top Placing Vocalist for the A/C genre in the International Vocalist Contest and was chosen as a Top 10 National Finalist in the All-Star Planet teen singing competition in 2009. Recently, she was nominated for Best Female Alternative Artist for the Indie Music Channel Awards in California. At the end of April, she'll be attending the Youth Arts Forum in Rutland, Vt., where she'll join other young musicians from across the country and perform to raise money for charities.
While she sometimes plays music with her two brothers, right now Guerrette is hitting the streets as a solo act. With several shows already lined up for the near future, including playing at the SPAC Rock and Run on May 19 and Art on Lark on June 8, she plans to continue performing in the Capital District until she figures out her next move. She was recently accepted into Berklee College of Music.
"My main goal, and it's always been there since I was very young, is to be a recording artist and make it big one day. Just to end up as Rhianna or someone big like that," she said. "I think it's just in me. I was born a musician."
To listen to Guerrette's music, visit reverbnation.com/bridgetteguerrette.
Vote on this Story by clicking on the Icon