DELMAR — Any Sunday morning in the late 1980's, you would find Hank Steadman, Alan Via and their buddies treading pavement across the Town of Bethlehem. Through rain, sleet or snow, the informal running group of 12 to 15 members would never fail to cover up to 10 miles each Sunday. They called themselves the Sunday Morning Running Group.
"I would look forward all week to get out on Sunday morning running with them," Via said. "We would run basically two-by-two or three in a row, so you heard stories about their kids and their jobs and all the various things in their life."
"We probably knew more about their lives than some of their family did," Via said with a chuckle.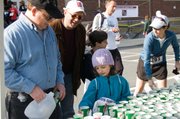 Someone from the group was responsible for placing a jug of water and paper cups at Orchard Hill Road early in the morning before meeting up with the group.
"This was when Fisher was just a town road through the woods," Via said.
While out one morning on a run, a few of the runners came up with the idea of a town-wide race.
"We thought there was a big gap in the local racing calendar and the Town of Bethlehem is such a wonderful area to run in – and I wanted to show off the town," Steadman said.
With this idea, the Delmar Dash was born, and the work began. First things first, they needed to come up with the route. Rather than use their feet, the group took to the street with bikes set up with special calibration devices to determine the course. They ended up settling on a five-mile run.
"We wanted a distance that wasn't a 5K because 80 to 90 percent of the races are five kilometers," said Steadman. "I wanted something different, but not so much that the novice runner couldn't do it."
(Continued on Next Page)
Prev Next
Vote on this Story by clicking on the Icon