COHOES — A Cohoes man was found guilty of robbing an 86-year-old man in his home, District Attorney David Soares announced Thursday, April 11.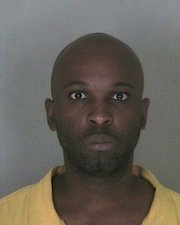 On June 14, 2012, James Lawrence, 28, unlawfully entered Fred Freije's Cohoes home and stole money and other personal belongings. Police said Lawrence caused serious physical injury onto Freije. Freije passed away from unrelated matters and was not able to testify at any court proceedings for the incident.
Lawrence faces up to 25 years in State Prison when sentenced on May 16, police said.
Lawrence was found guilty before Judge Peter A. Lynch in Albany County Court of two counts of burglary in the first degree, one count of robbery in the first degree and two counts of robbery in the second degree, all felonies.
"I am very pleased with the result of this case and I hope this conviction will give Mr. Freije's family some piece of mind. Mr. Freije was a pillar in his community. He was a business man who contributed to the betterment of Cohoes. The actions of these defendants destroyed the peaceful life Mr. Freije had worked so hard to create. He had earned a life of tranquility but was ultimately visited by violence. Hopefully Mr. Lawrence will have many long years to consider his actions," Soares said in a statement.

Vote on this Story by clicking on the Icon