VOORHEESVILLE — Most area school districts will be receiving at least some additional state aid following the adoption of the state budget, but the Voorheesville Central School District looks to be the exception.
Sen. Cecilia Tkaczyk, D-Duanesburg, told the Voorheesville Board of Education Monday, April 8, that it is the only system in her district where aid will decrease year-to-year.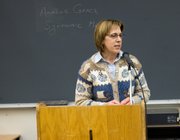 "There are reasons why you got less, but you're the only that did get less in my Senate District," Tkaczyk said. "There's a little bit of money left, whether or not you get it I don't know, but you can certainly attempt to ask for it."
Tkaczyk said there is $15 million in "bullet aid" available within the senate's budget, intended to provide a shot of aid to school districts outside of the normal formula for aid distribution. There is no formal process to apply for or distribute such aid, though the district has written to Tkaczyk to request it.
The state's 2013-14 budget increased aid to school districts by $936.6 million compared to the previous year's budget. The adopted budget also includes $436 million more in education aid when compared to Gov. Andrew Cuomo's executive budget.
Voorheesville is receiving nearly $196,000 less in state aid for the coming school year, or a 3.7 percent reduction, for a total of $5.1 million. District officials said the actual aid should be $5.9 million in 2013-14.
Gregory Diefenbach, district assistant superintendent for business, said there are two reasons the district is receiving less state aid this year. Last school year, the district implemented full-day kindergarten and received almost $250,000 to help with the transition. That one-time funding boost left a gap this year, and the district's transportation aid was also affected by the change.
Switching to full-day K reduced the number of daily bus routes. Transportation aid is based on the previous school year's expenses, so as the district realized savings it also sees reduced aid. The reduction in transportation aid was more than $60,000 to a total of around $675,000.
(Continued on Next Page)
Prev Next
Vote on this Story by clicking on the Icon