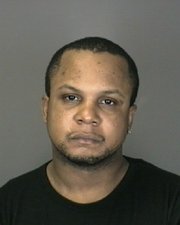 COLONIE — An Albany man was arrested Monday night for possession of a handgun following a traffic stop, according to police.
At 9:12 p.m. on Monday, April 15, Colonie Police Department Patrol Officer Louis DiNuzzo stopped a car on Loudon Road after seeing the vehicle drift into the median and having items hanging from the rearview mirror obstructing the driver's view, police said. Police said the vehicle's registration had a suspension for an insurance lapse from the Department of Motor Vehicles.
While interviewing the driver, 38-year-old Steven M. James, the officer said he smelt marijuana and saw James grabbing his waistband area. Police said they believed James had a weapon on him, and when the officer continued to search the car, James allegedly fled on foot and began throwing items while running away.
Police said DiNuzzo chased James and caught him at 1 Old Loudon Road. James allegedly refused to comply, so DiNuzzo used his Taser until back-up officers arrived.
Following the arrest, officers said they found a .38 Smith and Wesson Revolver and a .38 live round that James had discarded. They also said they found three small bags of marijuana in James' pocket and a can of OC pepper spray in the car.
James was charged with criminal possession of a weapon, second and third degree felonies; resisting arrest and unlawful possession of a noxious matter, misdemeanors; unlawful possession of marijuana, a violation; operating a motor vehicle while registration suspended, a misdemeanor; and moved from lane unsafely and driver's view obstructed, traffic infractions.
James was arraigned in Colonie Justice Court and remanded to Albany County Correctional Facility until his next appearance on Wednesday, April 17.
Vote on this Story by clicking on the Icon