BETHLEHEM — Barbra Zittel's mother never understood why her daughter would take up quilting as a hobby.
"She used to say she didn't know why someone would want to take a piece of cloth, cut it up and then stitch it back together again," said the Delmar resident with a laugh. "What she didn't know was putting it together again can be a very supportive and personal thing."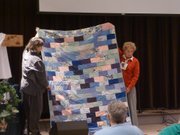 That network is what has drawn quilters from throughout the greater Capital District since 1977 to Quilters United In Learning Together (Q.U.I.L.T., Inc.). The group started out small, but now has more than 200 members who meet once a month at the Delmar Reformed Church to swap techniques, listen to guest speakers and work on community service projects.
It is believed there are no original members still involved, but member Nancy Schlegel said the group may have been formed because in the '70s quilting was coming back into vogue. Schlegel said she began quilting around the same time for similar reasons.
"Quilting went out in the 1950s and '60s because it was viewed as old fashioned. Everyone wanted to buy things," said the Castleton-On-Hudson resident. "It came back with the Bicentennial because it was seen as a craft."
Members aren't exactly sure what has made the group thrive over so many years, but many feel it's the social aspect that has drawn new people into the fold.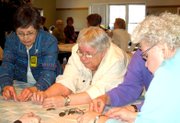 "I belong to a smaller, local group that meets once a week, but before it was almost like I had been working in a vacuum," said Linda Miller, 70, of Wynantskill.
A member of the Delmar group for 25 years, Miller said it is often hard to find other people who share similar hobbies, especially as one grows older. The group not only gave her a place to learn new skills, but also a place to make friends.
(Continued on Next Page)
Prev Next
Vote on this Story by clicking on the Icon