continued — "Women are becoming empowered," said Zittel, who is 66. "So much throughout history women have been devalued and I think we are now realizing the importance of being with a women's group to get the help and experience of our elders and peers. It can be a powerful experience."
Group members rally together in times of need and are devastated when another member can no longer attend meetings. Before a member recently passed away, she asked the group two favors — to finish the quilt she was in the middle of making and to teach her granddaughter how to quilt. Members who have volunteered are now doing both.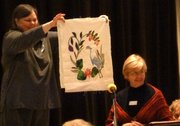 Quilting has also been known to relieve stress. Some members feel the group continues to grow because the next generation is looking for a hobby to distract themselves from high stress jobs or family life.
Susan Leach, 49, of Delmar, said she began quilting 18 years ago after the birth of her son. "I needed a reason to get out of the house and I signed up for a quilting class. Then I got hooked."
The group is open to those of all experience levels throughout the region.
Q.U.I.L.T. President Holly Pennock said members are now giving Quilting 101 lessons, a program that has been deemed a success. About 25 people have signed up to attend classes.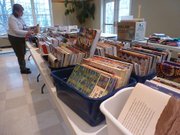 The group will soon hold its 13th Biennial Quilt Show at St. Sophia Greek Orthodox Church in Albany. The event will showcase quilt work by members and will also feature several guest speakers. A quilt raffle, silent auction, gift boutique and rummage sale will all take place, along with demonstrations, a fashion show and the attendance of quilt vendors.
All of the show's proceeds go to help the group pay for tools and materials for their service projects that benefit local organizations like the Ronald McDonald House, the Capital District Rescue Mission, Albany Medical Center's children's unit and Camp Erin, a local grief support group for children and teens. The money raised also helps the group bring in additional quilt speakers from across the country.
"I think the idea of quilting as an art form is very popular now," said Schlegel. "A lot of times over the years, women's work has been transient, like cooking and cleaning. This is something creative and colorful, that lasts generations."
The 2013 Quilt Show take place on Friday, April 19, from 11 a.m. to 8 p.m. and Saturday, April 20, from 10 a.m. to 4:30 p.m. Admission is $7 for one day and $10 for two days.
Vote on this Story by clicking on the Icon