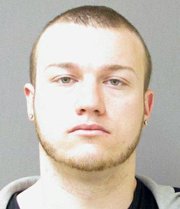 ALBANY — A Cohoes man was arrested for criminal trespassing at the Empire State Plaza after it was closed, according to State Police.
Sean M. Harris, 25, was charged with criminal trespassing in the third degree and false personation, both misdemeanors. State Police allegedly found Harris in the Empire State Plaza Concourse Level after it was closed. He then provided a false name and date of birth, according to police.
After further investigation, police found he was wanted by the City of Rensselaer Police Department on a bench warrant for failure to appear on the charges of false personation, aggravated unlicensed operation of a motor vehicle and unlawful possession of marijuana.
Harris was turned over to the Rensselaer Police Department for their warrants. He is to appear in the City of Albany Criminal Court on Monday, April 22, at 9 a.m., for the new charges.
Vote on this Story by clicking on the Icon