continued — Pruyn leased more than 180 acres, where he built a summer home for his family that duplicated their original home in Bath that still stands today. When Pruyn died in 1846 without leaving a will, the house went up for auction. The 15-room house and 114 acres sold for $3,800.
Over the next 45 years, several different families owned the property until John Henkes purchased the home on 80 acres for $3,250 in 1893. The Henkes family used the parcel as a working farm and lived in the home until 1983 when Henry "Syd" Bailley, who married into the Henkes family, died.
Along with the overall renovations, the home was wiped clean of furniture from an estate sale when the town finally acquired it. In order to maintain the historic feel, loans and donations were collected over the years to fill the rooms with 19th century pieces of furniture.
Since its official opening, the town and Friends of Pruyn House, which is a 650-member nonprofit corporation that manages and governs the site, have spent more than $400,000 for maintenance and upkeep on the home and grounds. Eight other buildings, including a Buhrmaster barn, smokehouse and schoolhouse, sit on the land to reflect the original Pruyn property.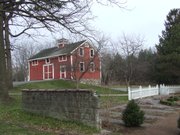 Now the Pruyn House serves as a cultural, historical, educational and multi-use park in the heart of Colonie. President of the Pruyn House and former Town Supervisor Mary Brizzell said the Pruyn House is the "best kept secret of the Town of Colonie."
Though it may be a hidden gem, it's also a busy destination. Several art and historical exhibits are on display each month and private parties can rent out the home for events. The property hosts 23 weddings a year, usually in the barn or by the 2,000-square-foot garden filled with culinary and decorative herbs and flowers. The Fort Orange Garden Club and several other organizations manage the garden from May to October and Morgan said many people come just to visit the garden to take photos.
Vote on this Story by clicking on the Icon