CAPITAL DISTRICT — Three months ago, Connor Chung's musical performances were limited to singing in his shower. Today, the sixth grader from Glenmont performs to crowds of hundreds, and sometimes more.
"We thought about how it would be cool if he had an outlet to sing," said James Chung, Connor's father. "Then out of the blue we got an email from a Delmar parent suggesting that he might like this choir."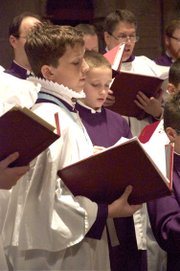 Connor, 12, is one of 17 boys ranging from ages 7 to 14 in The Cathedral Choir of Men and Boys. The group sings the soprano alongside 12 professional men who contribute the alto, tenor and bass parts. For more than 140 years, the choir has been an integral part of The Cathedral of All Saints in Albany.
Men and boy's choirs date back to the Middle Ages when, boys were responsible for contributing a treble sound to church music, since women at that time were typically excluded from performing in church alongside men. It's a tradition that has lived on in many English cathedrals.
"Mixed choirs were unusual," said Woodrow Bynum, musical director of The Cathedral Choir of Men and Boys. "In the City of Albany, there were at least six if not more choirs like this."
The choristers come from all over the Capital District and from various backgrounds, faiths and cultures.
"The music and the singing experience is what unites them," Bynum said.
The boys go through what Bynum calls a screening, which he was careful to distinguish from a high-stress Broadway audition.
"They need to be able to match pitch and demonstrate considerable musical aptitude," he said. "They don't necessarily have to show up perfectly trained reading music. It's our job to teach them that."
Once accepted, the boys are quickly introduced to the demanding world of professional music.
(Continued on Next Page)
Prev Next
Vote on this Story by clicking on the Icon