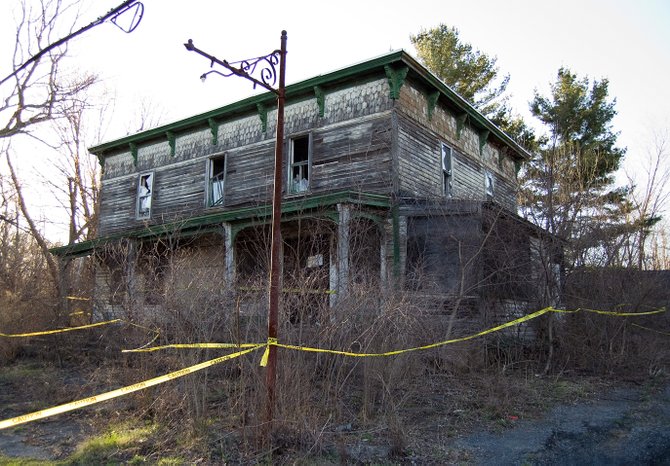 NEW SCOTLAND — Three blighted buildings in New Scotland are ready to be razed, but exactly when the walls will come down remains unclear.
The New Scotland Town Board held a public hearing Tuesday, April 9, on the proposal to demolish three buildings targeted under the town's Unsafe Building Law adopted in September of 2010. These buildings are the first the town has fully pursued under the law.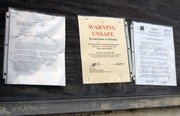 Several other buildings have been targeted, but the property owners are in the process of making repairs or have made good faith efforts, according to town officials. None of the property owners targeted spoke during the public hearing despite being notified by the town.
Town Supervisor Thomas Dolin after the meeting could not provide an estimated timeline for demolition because cost remains a concern.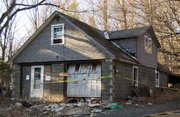 "The board has to take into consideration the cost, how much we can devote to this project and when," Dolin said. "This 2 percent cap on expenditures has really put a stranglehold on government operations."
The properties sought to be demolished are 28 Whitbeck Lane (a $31,250 cost), 154 Clipp Road ($19,800) and 14 Railroad Ave. ($7,200). The cost to demolish the Railroad Avenue property is much lower in part because there is no foundation there. All contracts would be put out to bid.
All demolition costs for a property would be incorporated into a lien on the property if the owner could not or does not pay, Dolin said, but the town would need to pay the immediate expenses.
Eric Hilliard, senior associate of Stantec Consulting Services Inc., completed reports for the three buildings and concluded all were "unfit for habitation" and are "considered dangerous to enter."
The local law was established to hasten the removal of such structures. The law states improperly secured vacant buildings "serve as an attractive nuisance for young children who may be injured therein, as well as a point of congregation by vagrants and transients." Dilapidated buildings could also lead to "rodent infestation," which would create a "health menace" for neighbors.
(Continued on Next Page)
Prev Next
Vote on this Story by clicking on the Icon