continued — Town Attorney Michael Naughton said Code Enforcement Officer Jeffery Pine visited the properties within the week before the hearing and "no action had been taken." The property owners have not announced any intent to proceed with renovations, according to Naughton.
"Because of the advanced nature of the decomposition of these buildings, there is nothing really that can be done to save them without great expense," Naughton said.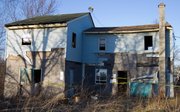 The New Scotland Historical Association, Clarksville Historical Association and state Historic Preservation Office were contacted to comment on any historical significance of the properties, but replies indicated there was nothing of significance, Naughton said.
Pine said he posted notices on the three buildings on Jan. 9, and has communicated with property owners.
The overall condition of 14 Railroad Ave. is poor, according to Stantec's report, with exterior walls moved and buckled in various directions on all sides, along with other deteriorating elements.
The overall condition is also poor at 154 Clipp Road. A large area in the rear of the first floor collapsed into the basement. The building is also filled with "several feet of household trash, furniture and other miscellaneous material making access difficult," according to Stantec's report. Some open sheds behind the building are also partially collapsed, or have holes in the roof. Also, the report said, "The entire site is dotted with piles of trash."
The main front section of 28 Whitbeck Lane is in poor condition and the entire northwest side of the back wall has fallen off and collapsed from the building, exposing the interior for both floors. There are several other structural concerns, including holes in flooring, damaged walls and a buckled ceiling. The garage though is in fair condition.
John Dearstyne, of Clipp Road, thanked the board for taking actions on unsafe buildings. 154 Clipp Road is directly across the road from his home.
"This is a piece of property that definitely needs remediation," Dearstyne said. "There are several new roads on the home, one of which is directly behind it and they have three infant children, two of which are walking now. You know, strange things happen where kids get loose sometimes, and they can get injured."
Vote on this Story by clicking on the Icon