COLONIE — During her first stages of chemotherapy, Blue Creek Elementary teacher Jean Bassett knew she was going to start losing her hair. Nervous her students might become afraid of the changes, Bassett cut her long, curly hair short and walked into the classroom one day with her hair dyed blue. Another day, it was red.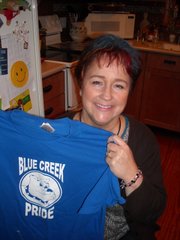 "As she was really starting to lose her hair, she told the kids something like, 'I want you to know that I'm going to lose my hair.' … She went into the bathroom and came back out with a clown wig on and said, 'And this is what it's going to look like!'" said John Bassett, Jean's husband. "She was always concerned about the kids … that's just who she was."
That courageous and unique style filtered into every aspect of her life as a mother, wife, teacher and friend. Described as easy going and always with a smile on her face, she firmly held onto her positive outlook on life while battling breast and brain cancer for almost three-and-a-half years until she died early Easter morning. She was 49.
Jean Bassett was born on in 1963 to Tom and Maryanne Gibbs and was one of seven children. She grew up in Menands and attended Catholic Central High School, where she met her soon-to-be-husband of 27 years.
"The two of us just connected," John said.
Jean graduated with a degree in education from The College of Saint Rose, married her high school sweetheart and immediately began teaching at Livingston Middle School in Albany.
"She looked like one of the students, she was that young," John said. "She was really small … most of the students were taller than her."
After working at the school for several years, she took a few years off to spend time with her own three children, Amanda, Justin and Elena.
(Continued on Next Page)
Prev Next
Vote on this Story by clicking on the Icon