continued — "She was a great mother and a great teacher that sort of played off of each other," John said.
She couldn't stay away from the educational world too long, however, and began teaching again, first at Watervliet's Grow & Learn Playschool, then Shaker High School and then settling at Blue Creek teaching first and second grades.
"She loved teaching elementary school because she liked the little kids. She just loved nurturing. She was always a mom," John said.
Shortly after getting into the Blue Creek classroom, Jean had to spice things up. She got rid of the individualized desks in rows and brought in small, round tables for the kids to sit in. That spontaneity continued throughout her 14 years at Blue Creek. A few weeks before the school year would start, Jean would have her new students come to the school for a "Playground Party" to get to know her and each other. Knowing that not all students enjoyed science, she helped start a "Discovery Fair" in lieu of science fair, where students could try out all different types of projects. She also helped create a community garden at the school where anyone could adopt a section to help keep it going strong.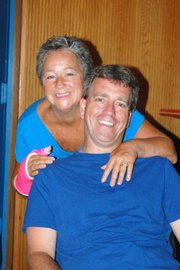 "She was this incredibly warm person who was extraordinarily creative, compassionate and really knew how to bring out the best in kids – both academically and that social, emotional piece. That was a very nurturing environment that really inspired the academic and personal growth," Blue Creek Principal Annette Trapini said. "The kids thrived in the place where they knew they were appreciated as human beings, as well as students, and within each other."
Things were much the same outside of work. Jean was a Girl Scout leader, softball and soccer coach and helped out with the school plays. She started an Earth Day cleanup in Menands and her daughter Amanda, who followed her mother's footsteps as an elementary school teacher, said it was easy for her to get other people involved in activities.
Vote on this Story by clicking on the Icon