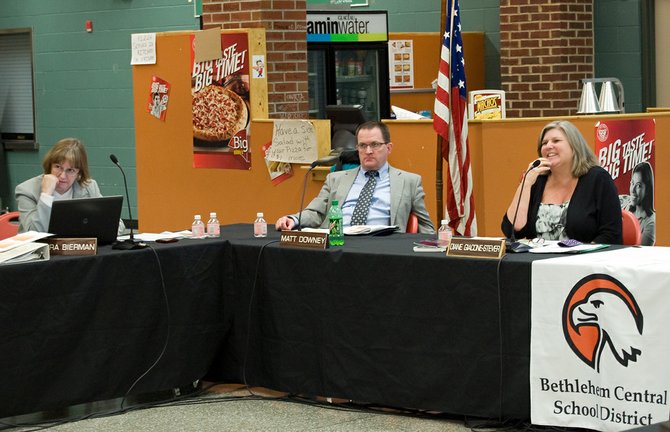 BETHLEHEM — Bethlehem schools will see nearly no cuts in classrooms next school year if voters approve a $90.4 million spending plan, but the same can't be said for athletics.
The Bethlehem Central School District Board of Education opted to tap $1.75 million of reserve funds in the 2013-14 budget, leaving about $220,000 worth of reductions to get comfortably below the district's maximum allowable tax levy. District administrators had recommended board members use caution in spending reserve funds. But making more cuts wasn't palatable to a majority of the board.
Around three hours into the board's Wednesday, April 17, meeting, it decided to vote on the proposed spending plan totaling that holds a property tax levy increase of 3.59 percent. The board passed the budget in a 6-1 vote.
Only board member Caitrin Navarro voted against the budget, saying she primarily objected to cutting all freshman level sports for around a $70,000 savings.
"I don't believe in reducing a full level of sports," Navarro said. "I think you only reduce what is not possible for the kids."
Athletic supporters cry foul
While reviewing the proposed reductions, Board President Diane Giacone Stever and Vice President Matt Downey joined Navarro's call to place eliminating freshman sport. Board member Laura Ladd Bierman said school districts are trending towards eliminating freshman sports and there are opportunities outside school sports for students to play on a team.
Navarro countered that Bethlehem shouldn't follow trends and eliminate freshman sports when there is still competition. Modified teams are generally more often supported in the Suburban Council, according to district officials.
"I think we are a leader, not a follower," Navarro said. "There are teams for us to play. I don't think playing on a team outside of school and playing on a team for school are the same thing at all."
(Continued on Next Page)
Prev Next
Vote on this Story by clicking on the Icon