continued — Navarro said students learn "way too much" from athletic opportunities and they instill school spirit and pride.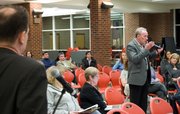 Board member Charmaine Wijeyesinghe, whose daughter plays modified basketball, said the modified teams would likely become more competitive, which might not be a bad thing. Wijeyesinghe wanted parents to realize their children should be practicing and learning basic skills if they want to play for a school team.
Wijeyesinghe supported eliminating one level of sports. Administrators said the change would affect about 160 students over 11 sports teams.
"This is an amount of that I believe we need to use," she said. "Should we go deeper without taking this cut, it will affect the academic program."
Peter Keane, father of two students, said he was concerned about cuts to sports. He said Bethlehem's athletics budget appears average when compared to area districts.
"We are talking about … trying to shave things so that we are not cutting an entire group of students. This is an entire group of students," Keane said. "You are cutting roughly a quarter of the kids who currently participate … so that seems like a pretty severe cut to make."
Bethlehem Central Athletic Association President Tim Maniccia said athletics account for 1.3 percent of the district's budget and cutting $70,000 is 5.9 percent of the athletics budget. Maniccia said the $70,000 represents roughly a third of the cuts proposed by the board.
"There just seems to be, to me, an equity issue there and proportionality issue," Maniccia said. "I totally understand the logic – if we run out of opponents it doesn't make any sense. … I think many of us in the room and community would feel a lot better about this if we actually knew that all these other schools were going to cut."
Board member Lynne Lenhardt said the district has "done its best" to keep athletic programming, but cuts had to be made.
Vote on this Story by clicking on the Icon