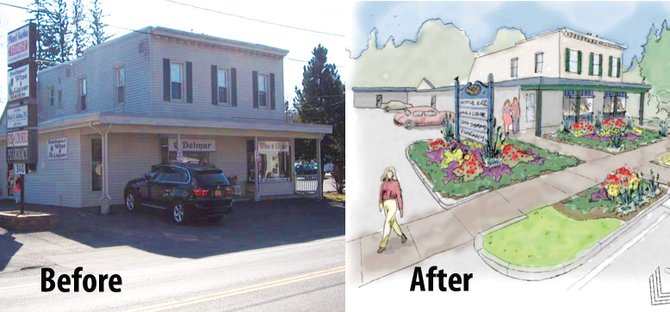 continued — If such changes were to be made, the Town Board would need to approve changes to the zoning code.
Delaware Avenue, along with all of the major roads in town, is state owned. Last February, town officials had said implementation of the project's major points were 10 years away since the estimated cost was $2.5 million. The town is now working with the state Depar tment of Transportation to see if the state would be willing to pay for some "preservative" aspects of the plan, while the town pays for beautification. The cost to the town would then be about $1.7 million.
"However, the state is in preservation mode itself, so we'll see," said Morelli.
Other projects along Delaware Avenue include a state DOT project to change the traffic pattern at the intersection of Elsmere and Delaware avenues. The changes are being made because of the intersection's accident history.
The plan would see the roadway changed from two lanes of traffic going to and from Albany, to two lanes of traffics heading toward Albany and one lane of traffic heading toward Delmar. The third lane would be turned into a dedicated left-turning lane in the center. Work is set to begin this summer.
Officials are also in discussion with the DOT to increase safety at the Delaware Avenue crosswalk to Elsmere Elementary School.
A previous meeting was held in January between town officials, school parents and staff to discuss the issue. Ideas
ranged from installing costly beacons and signs to help alert drivers of the need to stop when students are using the crosswalk, to lowering the speed limit along the road. The speed limit is currently 40 mph along much of Delaware, and 30 mph in the school zone. However, it goes back up to 40 mph for a short distance before being lowered again once drivers get closer to the Four Corners.
Vote on this Story by clicking on the Icon