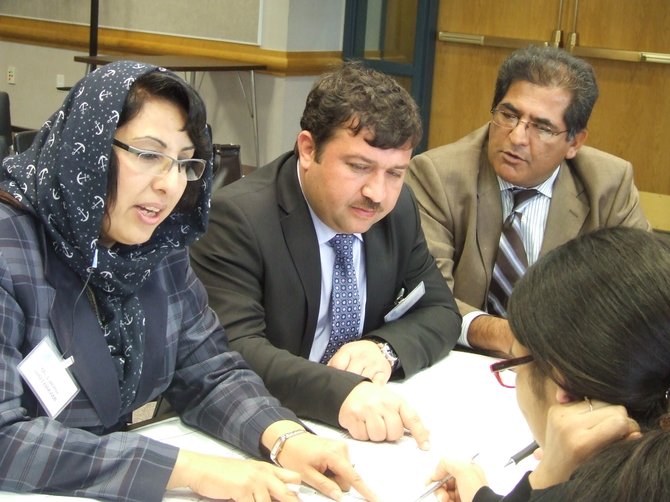 COLONIE — The Town of Colonie might not have the same culture, landscape or problems that the country of Afghanistan faces, but officials from that faraway land hope they can learn something here all the same.
Elected officials from Afghanistan recently made a stop in Colonie on their tour of the United States to learn from the town's governmental and structural processes. They arrived Sunday, April 21, and will depart Thursday, April 25.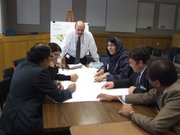 Two mayors, a member of parliament, the director of the Ministry of Counternarcotics and their interpreters are on a 21-day tour of the United States in hopes of gaining knowledge of local, state and federal government in order to help sustain and build their own economy and government. The visitors, three of which were women, were invited to the country under the Department of State's International Visitor Leadership Program, arranged by the Meridian International Center.
Diane Conroy-LaCivita, the executive director of the International Center of the Capital Region, Inc. and the visitors' Colonie tour guide, said Colonie was chosen for a stop on their tour because it was a good example of a suburban perspective. While part of the tour includes visiting Washington, D.C., and New York City, the visitors are also looking at the New York State Museum, the City of Troy and examining Colonie's planning and building processes with town Director of Planning and Economic Development Joe LaCivita.
"What they're trying to do is gather so much information … and adopt some of these processes to attract businesses (to their country)," LaCivita said.
Over the past two years, officials from six different countries, including Romania and Mexico, have visited Colonie under the program, LaCivita said.
"People are very interested in visiting New York state because we have so much going on … based upon our nanoscience level, education, theme of transparency, accountability, same sex marriage, fracking issues, environmental issues. The good, the bad and the ugly," Conroy-LaCivita said.
(Continued on Next Page)
Prev Next
Vote on this Story by clicking on the Icon