BETHLEHEM — An upcoming vote in Bethlehem to eliminate the position of highway superintendent has led local public figures to seek out unusual allies.
Many political leaders have lined up behind one of two groups that have emerged with the goal of swaying public opinion on the vote, but the divide has not stayed within party lines. Some are calling Supervisor John Clarkson's bid to eliminate the position and place the powers with the commissioner of public works a "power grab," while others feel it's a rational decision that will save money and create efficiencies.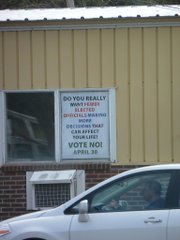 One group is Keep the Vote Bethlehem, a non-partisan "coalition" that began several months ago to urge residents to vote "no" on the measure. The other is called "Modernize and Economize," and is led by Bethlehem Supervisor John Clarkson.
Keep the Vote Bethlehem was formed by Bethlehem Republican Committee Chairman Fred DiMaggio, Republican committee member Mike Kelly Sr. and Democrat town resident Dan Cunningham, after the Town Board set a public hearing on the topic in February. Cunningham called the group a "grassroots effort" to maintain the public's right to vote because they feel the reasons for the change are "questionable."
"We thought all of the potential savings and efficiencies presented are easily obtainable under the current structure," he said. Cunningham's brother, former Bethlehem Supervisor Jack Cunningham, runs the Town of Colonie's Department of Public Works.
The group purchased lawn signs and leaflets after fundraising at meetings. There is also a Keep the Vote Bethlehem website and Facebook page. The group is also supported by all four of the county's political committee chairpersons. Some committee members have also given funds to the cause.
Some involved in efforts to pass the resolution drew parallels to the Reform Democrat movement that revealed a schism within the party. But Albany County Democratic Committee Chairman Matthew Clyne said politics don't play into his opinion.
(Continued on Next Page)
Prev Next
Vote on this Story by clicking on the Icon