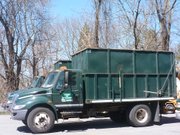 continued — But the League sees this public vote as different from an election.
"We take a stand on issues we study and come to consensus on. We don't support political parties or individual people," said League President Mary Berry. "It's not something we do off the top of our heads. This has been the basis of the League since 1920. It's nothing new, but I think people might get confused."
Those against the proposal were also angered when only one polling place was chosen for the vote. They believe only having one location, at Town Hall, will lower voter turnout, and argued those who live in Delmar are more likely to support the referendum.
The Town Board unanimously voted to have one polling place at the beginning of the month. According to state law, in order for the town to offer absentee ballots for the vote, each polling place must establish its own Board of Registration and Board of Inspectors. This is so those who are not already registered to vote with the Albany County Board of Elections may vote in this special election.
Clarkson said for multiple polling places to be used, mailers would need to be sent out notifying each resident of where they would be voting in the special election, since the location might not be the same as where one would typically vote. Those needing to register would need to do so at that polling location during designated times and those times would have to be published in two newspapers.
It was ultimately decided the vote might be less confusing if only one polling place was used, which has become a sticking point for some.
"This vote could have been done in November," said DiMaggio. "This is a rushed job that's being done off cycle. People don't even know about this election. It could have been done a different way and given people more time to think."
Vote on this Story by clicking on the Icon