continued — In addition to recycling, there will be several donation efforts.
Grassroot Caregivers will be accepting usable clothing, toiletry items, linens and kitchenware, which will help stock its Community Store. Individuals and families living in poverty or in a shelter have the opportunity through the Community Store to choose what items they need free of charge.
If you've had books piling up on your shelves, the Albany Book Project will be collecting books that are less than 10 years old in new or like new condition. The books get distributed to schools and classroom libraries, senior centers, social services offices, literacy programs, clinics, military bases and hospitals.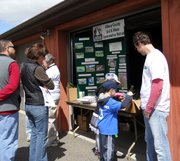 Other donation opportunities include working household appliances and kitchen cabinetry, to be collected by the Habitat for Humanity ReStore for resale at its warehouse. The Albany County Soil and Water Conservation District will collect empty beauty product containers, tubes and bottles.
If you're looking to purchase something, Farnsworth students will be holding a garage sale to benefit the Butterfly House and Organic Garden at the school.
Finnessey, also Voorheesville Deputy Clerk Treasurer, said the donations, while not directly tied to recycling, helps keep items out of the waste stream.
This is the second time the Go Green Day event has been held (the first was two years ago) and Finnessey said its offerings have only grown.
"We have increased the number of presentations and we have a little more variety," she said. "This is an educational event, so we also invited related types of vendors and exhibitors that offer products that would be of interest to be people who are coming."
There will be around 40 exhibitors and vendors at the event to explain ways people can embrace green habits, such as using solar energy, eating local food, gardening and crafting. Some of the presentations and demonstrations scheduled include Backyard Composting Basics, Plastic Bag Recycling and Alternative Uses, Electronics Recycling, Hydroponics 101, Creating Bio-Diesel for Your Car, Gardeners Alert: A Pest Update and Worm Composting.
Vote on this Story by clicking on the Icon