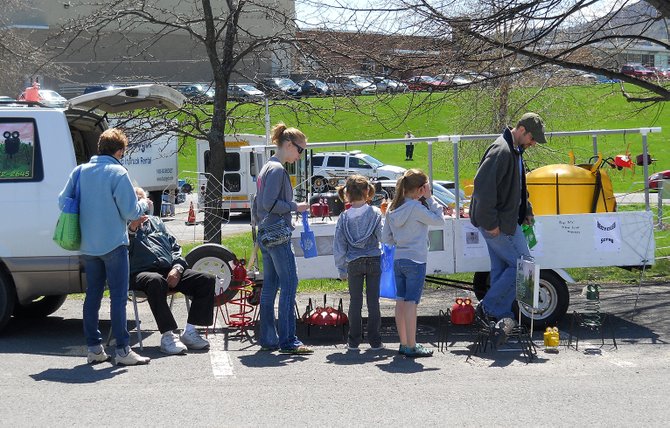 continued — Susan Pezzolla, consumer horticulturist of Cornell Cooperative Extension of Albany County, said throughout April the organizations focuses on community outreach. Earth Day was Monday, April 22.
"We try to do these very earth friendly programs during the month just to raise people's awareness that if you are doing something, perhaps you could do it a little greener," Pezzolla said.
Past Event
Saturday, April 27, 2013, 8 a.m. to 2 p.m.
,
All ages / Free - $7
Pezzolla said in addition to teaching effective gardening and composting techniques, 4-H members will discuss the benefits of eating locally produced food through an interactive game.
"It teaches them that the food in the supermarket can come from all over the world and it is good to make local food choices if you can and possibly grow your own food," Pezzolla said.
Cornell Cooperative Extension master gardeners will also offer soil testing for a $1 fee to determine the pH level, which could affect gardening conditions.
"We are available to answer their questions or research their questions further to help them garden better," Pezzolla said.
Pezzolla said she feels the last Go Green Day had a lasting effect.
"The last time that we did do this, it was really exciting to talk to people that are just getting started to make the change in their own household to recycle things and separate things out," she said. "For a lot of people this is a brand new territory … and it is a lot of fun to encourage them."
The tastiest addition to this year's Go Green Day is the Chef's Consortium, which is a group of Upstate chefs promoting locally-grown, farm fresh food. There will be five chefs preparing food for attendees, with a $7 bracelet required for entrance into the food tent. The bracelet is good for the entire event, with different selections offering for breakfast and afternoon hours. Families of four or more will receive is a discount.
Finnessey said the event is also a way for children to show their parents what they've been learning.
"The kids these days are learning a lot of this stuff through school … so it is a way for the kids to actually bring their parents and say, 'We learned about this in school,'" Finnessey said.
For more information on Go Green Day 2013, visit www.gogreendayny.org.
Vote on this Story by clicking on the Icon