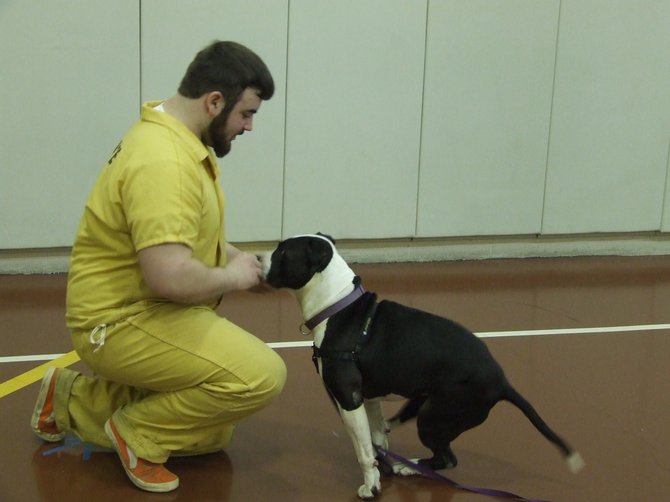 ALBANY COUNTY — For five weeks, a dog's best friend will be an inmate at the Albany County Correctional Facility.
Beginning this month, the correctional facility has partnered with the Mohawk Hudson Humane Society to experiment with a new program to benefit both the inmates and dogs. The STAR program – Steps to Adoption Readiness – is funded through the Mohawk Hudson Humane Society and lets inmates train homeless dogs for five weeks so they can become better suited for adoption at a permanent home. It's seen as a win-win situation.
"It gives the inmates perspective on doing something good," Albany County Sheriff Craig D. Apple Sr. said.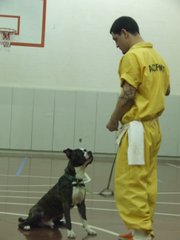 The program provides a productive, hands-on experience for the inmates, while also hopefully decreasing the number of dogs that are euthanized. Mohawk Hudson Humane Society Executive Director Brad Shear said the Menands animal shelter sees about 1,500 dogs out of the 6,000 animals it handles each year, with an 86 percent adoption rate. The shelter is hoping that percentage will go up if the dogs up for adoption are already well behaved and trained.
"It'll be a much better transition from the shelter to the home," Shear said.
Shear said he's seen many other programs similar to STAR nationwide, including one in Columbia County that is said to have been beneficial for both the inmates and dogs.
Currently, two pit bulls are staying with three inmates in one dorm, or an 18-by-24-foot cell. The two dogs, Snoopy and Cody, live with the inmates and are taken care of 24-hours a day. Members from the Mohawk Hudson Humane Society provide the inmates with formal dog training and homework assignments once a week.
Apple said while the inmates volunteer to train the dogs, they must also be eligible based on their classification level and criminal and disciplinary history. As for the dogs, they aren't looking for a specific type of breed but the canines must be adult, friendly and in need of training. The two dogs also have to get along with one another, since they live together in the dorm during the five-week program.
(Continued on Next Page)
Prev Next
Vote on this Story by clicking on the Icon