MENANDS — St. Agnes Cemetery isn't a place just for remembering the dead anymore. With a remodeled old chapel now a room lined with local art, it's also become a place to calm the living.
"That's why we call it 'The Living Room.' It's supposed to inspire you, calm you. Art is like therapy, I think, and we want this room to serve that purpose," cemetery Historian Kelly Grimaldi said.
Offset from the Menands cemetery's main office, The Living Room is a high-ceilinged, open room with one large window that pours sunlight onto couches and chairs. While the room used to be a chapel that was never used, Grimaldi had it completely renovated and turned into a gallery that will rotate Capital District artists' exhibits every 60 days.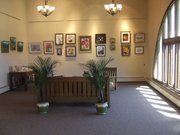 "It is my intent to promote local artists and we have a lot of talent around here, so I'm excited to see what people have to show," Grimaldi said. "We want this room to be used by our visitors."
The exhibit's official opening is May 17 with photographer Chuck Miller, yet the room is currently filled with work from six different local artists in the first unofficial show called "Celebrating Spring." The work features photography and paintings of floral and landscape pieces by artists Carole Fults, Karen Hummel, Robin Guthridge, Susan Beadle, Jennifer Nelson and Janet Judge Shaughnessey.
While these pieces focus on natural elements, Grimaldi said she's open minded about different mediums and themes.
"The only thing I can't take is anything that is universally considered distasteful," Grimaldi said. "This is a Catholic cemetery … we have to be mindful of our audiences and visitors … we have grieving families, families dealing with a whole variety of misfortune. I wouldn't want them to come in here and be offended."
Grimaldi said she already has exhibits booked through 2014, including work by a World War II veteran. Throughout the year, the room will also be used for lecture series on art, history, genealogy and more.
(Continued on Next Page)
Prev Next
Vote on this Story by clicking on the Icon