GUILDERLAND — Mark Grimm dropped out of politics after serving one term on the Guilderland Town Board, but now he's aiming to be town supervisor.
Grimm announced his intention to run for office on Wednesday, April 24, and said he would be seeking support from the Guilderland Republican Committee, which has yet to endorse any candidates. Grimm served four years on the Town Board from 2008 through 2011, but he decided not to run for reelection because he wanted to focus on his public relations business and other projects, along with spending more time with his family.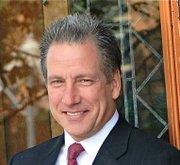 "I have a record of looking out for people that is pretty strong," Grimm said. "I have been looking out for them six years now … and I think there is a lot of support out there for me."
Grimm said he's worked to get all "his ducks in a row" and he is ready to focus on political aspirations. He said he would connect with residents face-to-face and is committed to knocking on 10,000 doors.
"I have the same frustrations that everybody else has," Grimm said. "We have had the same administration for 14 years and that is too long."
Grimm said he is "confident" he will be endorsed by Republicans and said he has a "record of looking out for the people." He announced his election intentions on his website and included a video message.
"Local government is where democracy begins, where you have the best chance to make your voice heard," Grimm said in the video. "More transparent government is the only way to hold our officials accountable."
Democratic Town Supervisor Ken Runion said he hasn't made up his mind on running for an eighth term after serving seven two-year terms as supervisor.
"I have enjoyed the job, but I haven't decided whether I would run for another term or whether I would retire," Runion said. "I am not going to make a decision based on who may or may not be running for office. I am going to make a decision on what is right for me and my family and how I feel about serving another two years."
(Continued on Next Page)
Prev Next
Vote on this Story by clicking on the Icon