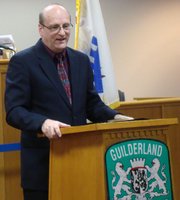 continued — Runion said he would likely make a decision around the second to third week in May. He said he's been focusing on town operations.
"It is a busy time for us," he said. "We are coming out of the winter and we are gearing up for the spring activities."
The Guilderland Democratic Committee says on its website that the committee is "preparing for this important election right now" and will be posting more information soon. Guilderland Democratic Committee Chairman David Bosworth could not be reached before The Spotlight went to press.
When Grimm was previously on the board he and fellow Republican Warren Redlich often clashed with Democrat board members and Runion. Grimm announced he would challenge Runion in 2009, but he withdrew his candidacy shortly after announcing.
Grimm upon dropping his bid in 2009 said, "A Grimm-Runion race this year would fracture the town no matter who wins. I feel this is not what's best for the people of Guilderland."
Guilderland Republican Committee Chairman Matt Nelligan, then vice-chairman in 2009, said he didn't believe Grimm could have defeated Runion that election. Calls to Nelligan were not returned.
If elected, Grimm said he would focus on making government more transparent and have the budget process more understandable for residents. He also is looking to keep taxes down and remove politics from the assessment process.
"I want to make people more aware of what is going on and if they do, they will be better voters," Grimm said.
Grimm points to several accomplishments while previously serving on the board, such as granting homeowners a tax break for making improvements, cutting red tape for home business owners and forcing the town to dump its trash at Colonie's landfill so the Rapp Road landfill wasn't expanded. He also touted helping to stop the $12.95 million Guilderland Library expansion.
Vote on this Story by clicking on the Icon