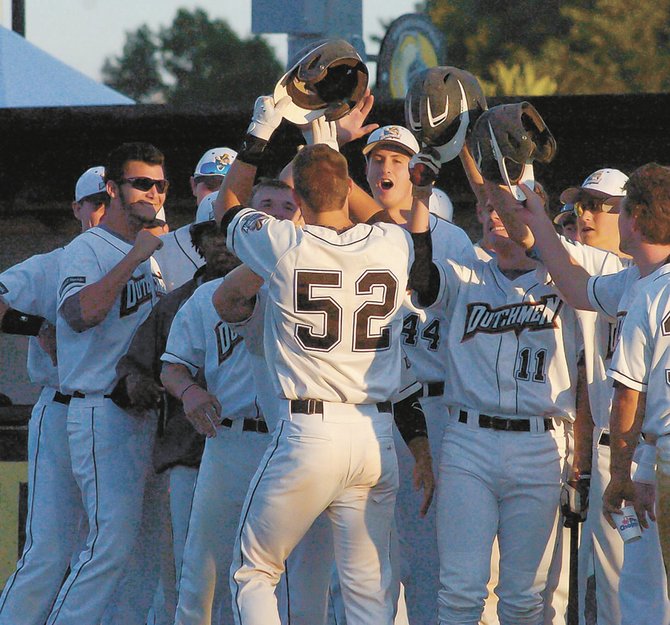 The seesaw battle continued in the fifth inning. A bases-loaded walk and a sacrifice fly by Smith moved Amsterdam back into the lead at 7-6, but it was short lived as Brock – a recent addition from Franklin Pierce College – drove in Chris Suseck with a two-out single to tie the score at 7-7.
Smith, who finished with three hits and four RBI, put the Mohawks ahead 8-7 with an RBI double in the top of the seventh inning. Nethaway came through once more for the Dutchmen with a one-out RBI double in the bottom of the eighth inning to knot the score at 8-8.
Albany reliever Thomas Belcher and Amsterdam reliever Chris Kalica each got through the ninth inning without allowing a run. Belcher ran into trouble in the top of the 10th inning when a pair of singles put runners on the corners, but he got out of it by forcing Brian Ruby into grounding out to the shortstop.
The Dutchmen loaded the bases with one out in the bottom of the 10th against Jeremy Soule, Amsterdam's sixth pitcher of the night. Pinch hitter Brian Ruhm hit into a force out at home for the second out of the inning, but Marks came through with a chopper over third base to drive Brock in with the winning run.
"It's what he does," said Davey. "The kid probably has 30 hits that haven't gone out of the infield."
"I was trying to hit something hard, and I happened to chop it," said Marks.
Albany carried the momentum back to Amsterdam for Sunday's Game 3. Tyler Orris drove in Marks with an RBI single in the top of the first inning to give the Dutchmen a 1-0 lead.
Smith and Ed Charlton each drove in runs in the bottom of the first to put Amsterdam ahead 2-1, and Jordan Ebert added an RBI single in the second inning to extend the lead to two runs. But, Matt Dacey belted a three-run homer in the top of the third inning to give Albany a 4-3 advantage.
Jordan Sansone's two-run homer in the bottom of the third inning moved the Mohawks ahead again, and they added four runs in the seventh inning to seal the Dutchmen's fate.
Despite falling short of reaching the PGCBL championship series, Davey said Albany's first playoff appearance will help the team in recruiting for next year.
"We've gotten better every year, and a playoff push can only help us," said Davey.
Vote on this Story by clicking on the Icon