BETHLEHEM — Summer camp is considered by many to be an important rite of passage consisting of nature walks, junk food and forging new friendships. Others may have missed out on the experience.
For those looking to add some adventure into their summer and re-live their days at camp, Bethlehem Senior Services is featuring a new program for residents 60 and older. Beginning in September, a two-day summer camp will be held with events and activities planned for seniors.
"It's a way to make new friends and reacquaint with old ones," said Senior Services Director Joyce Becker.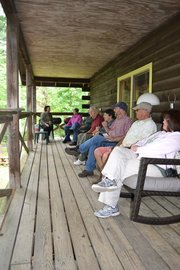 The program is being held during the day on Sept. 7 and Sept. 8 at SUNY Cortland's Robert C. Brauer Memorial Education Center in South Bethlehem. This is a pilot program for the department, so space will be limited to the first 20 seniors who sign-up.
"It may also be fun for people who grew up in a city environment to enjoy some activities in a rural setting," said Becker.
The program is being coordinated by Department of Senior Services Outreach Worker Will Vale. He said the idea is based on a similar program being done in Delaware County that has expanded to an overnight camp. For the time being, Bethlehem's program will only take place during the day.
Vale said the idea is for seniors to re-live their youth, meet new friends and get out of the house.
Different events have been scheduled throughout the camp's two days. There will be talks and demonstrations on wildlife and the environment, fitness lessons, arts and crafts projects, live music, and food.
Vale said members of the community have volunteered their time to make the camp a reality. Five Rivers Environmental Education Center staff plan to give a geocaching demonstration, while local artists will help campers tie-dye shirts and press flowers. Paul Doyle Jr. of the Critter Patrol will give a presentation on amphibians and reptiles, and an instructor from the Bethlehem YMCA will teach campers how to do "chair yoga."
(Continued on Next Page)
Prev Next
Vote on this Story by clicking on the Icon